My bucket list includes…
Some bucket lists are full of exciting things we think we want to do.  Some are full of exciting things we really want to do.  Mine is full of what I want out of life because I believe we each get a ticket to life and how we use it is a very personal thing.
When I was younger, I thought there was a predefined path for success or happiness or bucket lists, something that people were supposed to do.  As I get older I am finding out to heck with that.  Some things that are incredibly boring to other people, totally float my boat and vice versa.  For example, the idea of jumping from a plane excites me, It makes me think "Liberating!".  While getting on a daredevil roller-coaster at Six Flags terrifies me.  I think "You mean I have to trust a different engineer with my life?!?"
Can you tell I have trust issues?
My personal bucket list includes a heck of a lot of work because I happen to like working.  It's the environment where I'm most comfortable.  My work will include writing, running a business and validation (like being featured on a cool magazine like Time once).
It also includes a lot of traveling with my husband and two babies while they're still babies.  I like my husband and kids even as they make me want to tear my hair out in frustration.  They tend to show me a totally different side to things than I would otherwise consider. As I travel, I'd like to stay in one place for a few weeks or even months at a time.  I want to learn the languages, get to know people there and really get a feel for the place.  I've spent a lot of time in the Caribbean and did a trip to Europe a couple of years ago.  For the remainder of my bucket list, I want to hit Brazil, Chile, Scotland, London, French countryside, Paris, Rome, Greece, Costa Rica, South Africa, China and Nepal.
My bucket list includes … a lot of time and milestones with my family.
I would like to have a twenty-five year anniversary with my husband in the islands, with almost no preparation and no shoes.  I don't want to do the formal big-to-do I did the first time around.  For the second wedding, I want it to be… unexpected.
I would like to dance at my children's weddings.
I would like to see my daughters find their passion in life.   I would like to hold their children in my arms someday.
I want to visit St. Peter's cathedral.  I have a thing for churches and temples.  It's almost like I can feel a subtle change in my being when I enter some of them.  I want to know what St. Peter's feels like and what the Sistine Chapel looks and smells like.
I'd like to meet the Dalai Lama.
I'd like to learn how to meditate in a temple somewhere, although I'm not sure which temple.
I'd like to be run.  I'm not talking marathon run, just be able to run without wheezing or feeling like my heart is trying to beat its way up my throat.
Mostly, for my bucket list, I want to achieve peace in this life.  I want to be happy, whatever revelations that may require.  How about you?  What's on your bucket list?
This post is part of Finish the Sentence Friday.
Sentence for next week: I have a bad habit of…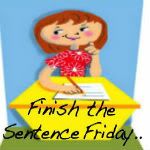 FTSF Hosts: