I have a bad habit of…
Well, I have so many bad habits it's hard to pick.  I guess my most annoying bad habit is probably that I'm usually right or at least, I think I am.  When I was a kid, the other kids used to call me computer because I would just spit out facts and calculations off the top of my head.  I research stuff and I have the memory of an elephant so I'm the woman adjusting her glasses and saying something like "Actually…"  This is my own version of Jinkies.  Velma, anyone?
I know my husband finds this incredibly annoying and I am working on remaining quiet if the facts jumping around my head don't add anything to the conversation.  It's just so hard to resist, particularly when we're having an argument and he brings up a fact I know is wrong inaccurate.  Of course, the flip side of that is that when I am wrong not precisely correct, I have to say something like, "I'm sorry.  But actually…"  I hate it when I have to do that, but I do it anyway because it's only right.
Recently, we had an argument about what the word actually means.  You'd think Merriam-Webster could settle this one easily but actually, it came down to the usage clause.  It turns out actually is not a contradiction (as I correctly surmised).  It can be used as the start of a clarification, a qualification, or a contradiction (anything that changes the meaning of the previous statement). See, I'm a know-it-all.  It's actually kind of annoying, isn't it?
How about you?  What annoying habits do you know you have?  Or the flip side – what annoying habits does your spouse have?
This has been a post for Finish The Sentence Friday.  Check out the awesome hosts when you get a chance.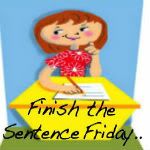 FTSF Hosts: